Social
Social
Human Rights Protection
Policies
In 2003, we established the "Foster Group Corporate Action Guideline" and the "Foster Group Code of Conduct for Staff", which define our respect for human rights in compliance with all laws and regulations, international rules and their spirits and concepts. We have also requested our business partners in the value chain to show a similar respect for human rights.
An outline is provided below.
Respect for Employees' Humanity
Under our labor-management mutual trust and responsibility, we seek to create safe and work-friendly worksites, aiming to help our employees enjoy comfortable and affluent lives. We also respect our employees' human rights, personalities, individuality, and abilities. In addition, we do not support any form of forced labor and child labor.
Respect for Human Rights and Anti-discrimination
We do not engage in irrational discrimination based on birthplace, nationality, race, origin, creed, religion, gender, age, disability of various kinds, hobby, academic background, skin color, sexual preference, gender identity disorder, pregnancy, political belief, participation to associations, marital status, hometown etc.
We do not conduct any actions that might lead to human rights violations such as violence, ridicule, defamation, slander, forcible working by threat, bondage (including by liabilities), human trafficking, or bullying.
Sexual Harassment
We do not engage in any act of sexual harassment or any act that could be misconstrued by others as sexual harassment.
We do not engage in any sexual speech or acts that are offensive to another person and prevent other persons from engaging in such acts.
Protection of Personal Information and Privacy
With respect to personal information and privacy of Foster Group Directors and Staff or for persons outside the Company that become known to Foster Group Directors and Staff during the course of work, we only use the personal information for the work and control it strictly. We control it strictly so that it will not be divulged outside the Company.
Worksite Health and Safety
We give priority to the provision of safety and health, endeavor to maintain a safe and healthy workplace environment, understand the laws and orders concerning work-related safety and health and comply with them. If any work-related disaster arises under any circumstance, Foster Group Directors and Staff strive to carry out the prescribed procedures such as the creation of an immediate report in order to minimize and prevent the recurrence of such accident in a reliable manner.
Compliance with Labor-related Laws
We comply with the labor-related laws and endeavor to maintain a comfortable and healthy workplace environment.
In order to ensure that the working conditions stay within the limit set forth in the "Labor Standards Act," we strictly control working days and working hours.
We do not force labor that compels excessive work or over-time work and so on.
Managers take into consideration the condition of the physical and mental health of subordinates at all times.
Activity Promotion Structure
We have established the CSR Committee and Compliance Committee to promote all relevant Foster Group initiatives.
In addition, we have established the Compliance Hotline and the Harassment Helpline as contacts for consultation and reporting and provide advice to various stakeholders.
Diversity
Policies
The Foster Group seeks to create systems and environments in which a diverse workforce of different genders, ages, nationalities and backgrounds as well as employees who work while raising children or providing nursing care can work actively according to their respective lives.
Through those activities, we aim to build a "Win-Win relationship" between the company and its employees and create synergies with the realization of enjoyable personal lives for each employee, the creation of new value, and improvement in the company's creativity and competitiveness.
Activity Promotion Structure
We have established the Diversity Management Section as a special organization in the Human Resources Department and are involved in multifarious activities.
Main Activities, Measures, and Development
Supporting Employees Raising Children and Providing Nursing Care
To promote a working environment where employees who are raising young children and providing nursing care can work at ease, we have improved our system to support the balance between work and child/nursing care. Since April 2018, we have extended the childcare leave period to three years maximum and the nursing care leave period to 183 days maximum. In addition, we have signed a joint use agreement with company-led childcare centers, which offers preferred benefits such as the right to the early nursery applications.
Promoting Women's Active Participation
By providing female employees with planned cultivation and supporting their career development, we are aiming to have female managers represent 30% of all managers by the end of March 2021.
In fiscal 2018, we held the "Career Development Seminar for Women" for female employees, aiming to increase their motivations and to be able to set clear targets through self-understanding and self-analysis.
Educational Activities on Diversity>
In fiscal 2018, we held training and lecture presentations for management to deepen their understanding of the promotion of diversity. By obtaining knowledge and information regarding diversity, we learned that the participation of diversified human resources will lead to new value creation within the company and the need to consciously eliminate unconscious bias. We also held a career development seminar for female employees.
Our Activities for LGBT (Sexual Minority)
Currently, the Human Resources and CSR departments are carrying out activities to deepen understanding of LGBT and increase the number of allies (those who show understanding and support for LGBT people). In the future, we will increase allies company-wide through activities designed to foster understanding.
Promoting Student Internships
We have accepted student interns since 2012. In addition to the work programs for learning acoustic technologies and sales activities, we provide a program for learning CSR, a program for experiencing acoustic quality evaluation, a program for overseas students, and various other courses. We have received positive feedback from the participants, who said that they were able to experience the sound development of Foster. In fiscal 2018, a total of 77 interns participated in them.
Global Human Resource Employment
The Foster Group employs a variety of human resources regardless of their nationalities, and is actively promoting international communications in the Group to cultivate human resources and enhance the functionalities.
With our activities recognized as a company that leads diversity promotion to its management, we were selected as the "New Diversity Management Selections 100 (2017)" awarded by the Ministry of Economy, Trade and Industry.
We will continue to create a working environment that makes use of diversity of the employees who has various backgrounds.
■Website of the Ministry of Economy, Trade and Industry: New Diversity Management Selections 100/Diversity Management Prime
Companies awarded as New Diversity Management Selections 100 (2017) (Japanese)
Best practices in fiscal 2017 (Japanese)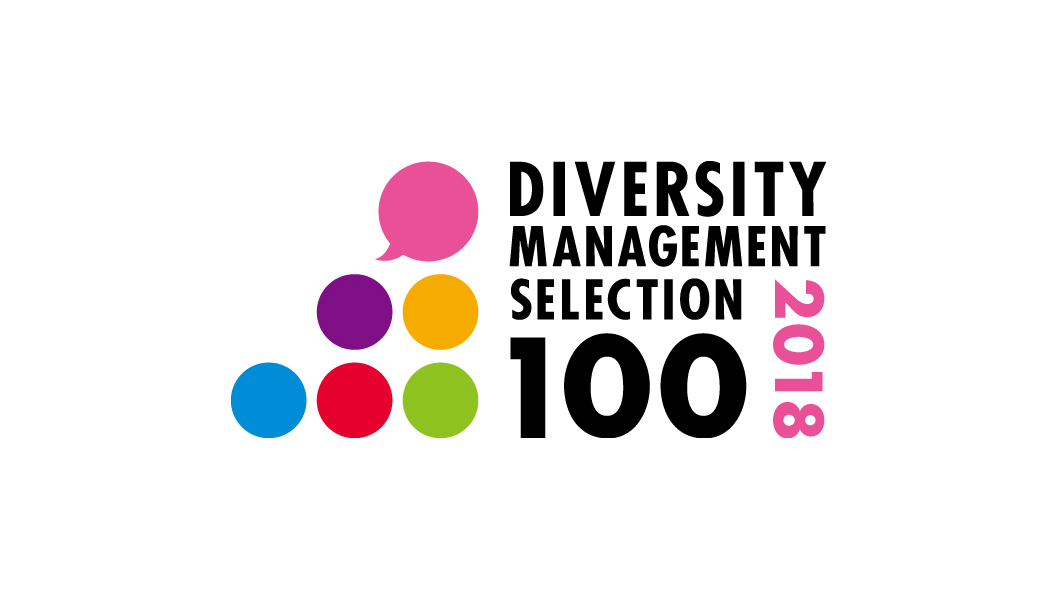 Labor (Labor Practices and Decent Work)
Policies
We put a high value on creating an environment in which each employee can grow through work and display their capabilities in a rewarding work. To realize this, we believe it is important to create a "work-friendly" environment where employees with various backgrounds support each other spontaneously through daily communications and give ideas to each other. Under labor-management trust and mutual cooperation, we seek to create an organizational culture and develop various institutions, aiming to create an environment where employees with various lifestyles and aspirations can work in the style that suits their situation.
Activity Promotion Structure
In addition to the promotion activities conducted by the Diversity Management Section, we have established the innovative working style project, which is involved in a wide range of activities with cooperation between labor and management.
Main Activities, Measures, and Development
Work-Style Reforms
Since September 2016, we have established the systems and culture that satisfy a variety of work-style to promote diversity and realize a work-life balance.
In fiscal 2017, we applied the flex time system to all employees and introduced the work-athome program. As for the work-at-home program, we introduced it at full scale without limiting the targets, and have been selected as one of the "Top 100 Telework Pioneers" by the Ministry of Internal Affairs and Communications for its telework initiatives. We have engaged in creating a work environment where employees can work flexibly to suit their lifestyles regardless of "time" or "place" by utilizing ICT. We will continue work-style reform to become a company that can offer a more desirable work environment and fulfilling career.
Returning Overtime Money
In order to advance not only the efforts of individual employees but also the organizational efforts to improve operational efficiency, we return overtime money twice a year to the sections that have reduced their overtime work hours by 10% or more.
This promotes the improvement of operational efficiency according to the actual situation of each section and awarenessraising to achieve further overtime reduction.
Enhancement of the Leave System and the Leave of Absence System
Since April 2018, we have introduced the volunteer leave system, so employees can grow through volunteer activities. We have also introduced the system that grants the leave of absence for up to two years to the employees who desire to pursue further education to deepen and expand their own expertise and the system that grants the leave of absence for up to five years to the employees who desire to accompany their spouses on overseas assignment.
During the period from December 2018 to March 2019, we implemented a trial hour-based paid holiday system that utilizes expired paid holidays. The system was well received by the employees who participated in the trial, with the comment that they can take paid holidays according to a range of situations. In future, we will develop the system for its full-scale introduction.
In addition, to enhance work-life balance by establishing a working environment that encourages employees to take paid holidays and leads to better operation performance, we set two days to encourage employees to take paid holidays in fiscal 2018. 75% of employees took the holidays on these days.
As a result of these activities, the rate of paid holidays taken was 78.9% in fiscal 2018.
(Target rate of paid holidays taken in fiscal 2018: 77%)
Health Enhancement
Mental and physical health is essential for employees to feel job satisfaction and have a fulfilling career. We position employees' health as an important management issue and are taking various initiatives.
For example, to raise the awareness of employees' health, we implement the "Health Point System," in which we give points and provide health incentives to employees.., and a "Smoking Cessation Support Program," which subsidizes the expenses paid to medical institutes to the employees who wish to quit smoking.
Such initiatives were evaluated and we received the "Certification of Excellent Company in Health: Gold" from the Tokyo Federation of the National Federation of Health Insurance Societies in December 2018. Subsequently we were certified as the "Excellent Health and Productivity Management: White 500" by the Ministry of Economy, Trade and Industry in February 2019.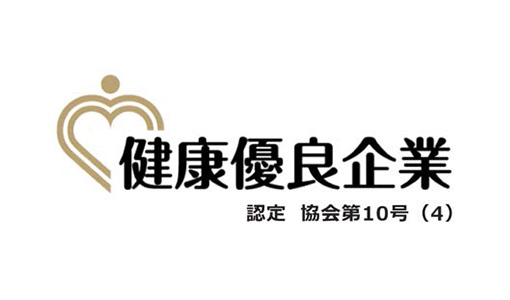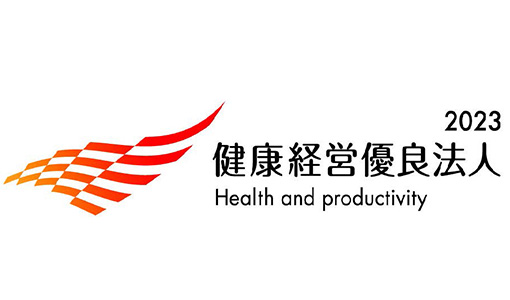 Human Resource Development
Policies
Our human resource development is based on "continuous performance by linking various personnel systems with individual development goals determined by mid/long term business strategy and individual personality (strength/weakness)."
The ideal for human resource development is as follows:
Personnel who embody our corporate philosophies and corporate creed through their duties and who have a "strong will" and "activity" to work toward their realization.

Personnel who do not remain complacent about the current situation but utilize every opportunity to improve their own abilities and grow with ingenious attempts and efforts.

Professional personnel who use their expertise to play a key part in strategy formulation and implementation and who can create value continuously.

Self-directing personnel who are conscious about their expected and assigned roles and missions and who can take responsibility for their own actions and results.
Activity Promotion Structure
Those human resource development measures are driven mainly by the Human Resources Department. In addition, through the "Foster Rhythm Project," which introduces our corporate philosophy penetration activities globally, we are striving to develop human resources who can embody those corporate philosophies and create a lively organizational environment.
Main Activities, Measures, and Development
To promote philosophy-focused management (Way Management), enhance the power of human resources and organization, and transform the organization, the Foster Group developed the action guidelines by redefining "the ideal company." We summarized those into the "Foster Rhythm Guidebook" and "Foster Rhythm Card" and distributed them to our employees across the world. We are also continually providing workshops and various kinds of education programs.

We are working to promote diversity and foster and enhance the global mind of our employees by regularly conducting "Inter-Cultural Communication Training" at various levels. We have also introduced the Global-eye Program, a new overseas training program for young employees, to promote the planned and continuous development of the nextgeneration of global leaders.

Since April 2018, we have introduced a new personnel system (personnel system with multiple courses) aiming to make the transition to a more flexible personnel system with a wider range of selections according to each employee's career plan, life stage, and work-life balance. At the same time, we are also working to promote the development of engineers by providing life-career design training and introducing the "Technical Master System."

To promote localization of overseas site management, we are also actively working on the development of the local managing staff at each site. Specifically, we ran the Global Leader's Training and facilitated human resources exchange by the Overseas Trainee Program and the international employee reassignment within Group companies, etc. to develop human resources globally.
Health and Safety
Policies
We have established a rule to "prioritize securing of health and safety, and endeavor to create a safe and healthy working environment." Based on this rule, we are advancing redressing activities, which are carried out mainly by the Health and Safety Committee, which governs health and safety, and the health and safety management organizations at respective sites.
Understand laws and orders concerning work-related safety and health and comply with them. And minimize and prevent a recurrence of an accident in a reliable manner.

Employee exposure to potential safety hazards is to be controlled through the proper design, engineering and administrative controls, preventative maintenance and safe work procedures.

Procedures and systems are to be in place to prevent, manage, track and report occupational injury and illness.

Employee exposure to chemical, biological and physical agents is to be identified, evaluated, and controlled.

Employee exposure to the hazards of physically demanding tasks is to be identified, evaluated and controlled.

Production and other machinery is to be evaluated for safety hazards.

Employees are to be provided with ready access to clean toilet facilities, canteen with suitable drinking and eating environment.
* Abstract from the "Code of Conduct"
Activity Promotion Structure
The health and safety activities carried out by Foster Electric are operated by the Health and Safety Committee at headquarters in cooperation with industrial doctors, under the supervision of its upper-level organization, the Risk and Crisis Management Committee. By sharing information among the health and safety management organizations at each site, the Group is working as one to create an appropriate working environment.

Main Activities
Every year, we implement health and safety education, which is the basis of occupational activities. Based on this, we are taking steps to address group-wide issues, led by the Risk and Crisis Management Committee. As part of the activities based on the health and safety management regulations, the health and safety management organization, which consists of representative workers and management, discusses site-specific issues, legal inspection, risk assessment, and so on at each site to prevent accidents and eliminate risks.
With regard to the group-wide issues, we are carrying out initiatives to resolve occupational health and safety issues for all employees based on the Foster Group Corporate Action Guidelines and the Foster Group Code of Conduct for Staff. This year, we will launch full-scale initiatives to address issues common to the Group using the essence of occupational health and safety management system, ISO 45001. The headquarters has developed and executed the plan based on the policy of the Health and Safety Committee, "Globally reduce risks and make provisions against the occurrence of crises," as an initiative to address individual issues. In particular, to introduce the occupational health and safety management system, we strived to develop a standard based on JIS Q 45001, which is the Japanese equivalent to ISO 45001, reduce highly harmful chemical materials in the production processes at plants, and enhance the health of employees. Based on these activities, we have developed the Procedures for Occupational Health and Safety Management Program, which describes our system. In addition, as a risk of causing a failure that will lead to serious consequences for the group, we replaced extremely harmful chemicals with less harmful ones to prevent the occurrence of severe failures and implemented health enhancement initiatives for all employees. These initiatives were evaluated and we received "Certification of Excellent Company in Health: Gold" from the Tokyo Federation of the National Federation of Health Insurance Societies in February 2018.
Bicycle Safety
Some employees working at headquarters use bicycles for their work or commute, and their safe use of bicycles and our traffic accident prevention activities were evaluated by the Japan Traffic Management Technology Association. We were certified as a "model company for bicycle safety" in February 2017, with our activities being seen as a role model.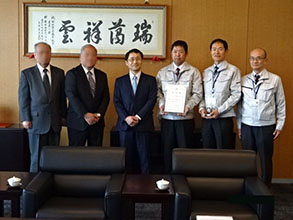 Initiatives at Overseas Sites
We have commenced preparations for obtaining ISO 45001 certification for occupational health and safety management system standards at some of our overseas manufacturing sites. We will strive to improve the issues related to occupational safety and health via the management system. Prior to the ISO 45001 certification, Nanning Plant in China obtained OHSAS 18001 certification on July 3, 2018.
Customer Satisfaction
Foster Group Sales Department
Policies
The Foster Group Sales Department mainly sells speakers and headphones for cars and audio devices. To realize our vision "To make contributions for future society through acoustics," we are working every day to create good sounds that can impress people across the world through our products and parts. One thing we must do to achieve this mission is to "create customers," as a wise person once said. Needless to say, customers can be created by continuously satisfying someone's needs. We consider it as the origin and made our primary responsibility "customer satisfaction," which we believe is the principle of all our activities.
Structure
We have sales offices in Japan (headquarters), the U.S., Europe, and other Asian countries/regions beside Japan. This tetrapolar structure is the base of the framework that enables our flexible responses not only based on the local time, languages, but also a deep understanding of business customs and cultures. In addition, through personnel interchanges among regions, we have established a structure to develop global human resources as true cosmopolitans, regardless of where they were born, and deliver our quality sounds to people all over the world.
Activities
The current economies and corporate activities are connected around the world and do not stop. Through our tetrapolar structure described above, we have realized a 24-hour response system globally and are conducting activities to quickly respond to every customer.
Fostex Company
Policies
The Fostex Company provides high quality products at appropriate prices to deliver an enriched and comfortable life to customers who purchase those products. In addition, the Company seeks to develop products that lead to the peace of mind and satisfaction of the customers who select and own them. In its after-sales services, the Company also pursues customer satisfaction by always promptly providing services from the customers' perspective.
Structure
We always listen to our customers' comments and seek what they need so that we offer products that our customers can use with satisfaction and peace of mind. As such, we have established a project promotion structure across our sales and technical units. In addition to the domestic market, we also understand global needs and strive to develop products specific to each region.
Activities
We share information with the dealers who are constantly in contact with our customers and also make efforts to listen to as many customers' voices as possible at exhibitions and trial listening events. As part of our educational activities for audio equipment, we offer lectures on working principles of speakers at universities and vocational schools.
Quality and Safety Assurance
The Foster Group is promoting and deploying quality assurance activities based on the FOSTER TQM (Total Quality Management).
Our Quality Assurance Policies and Actions
Under our customer-focused philosophy, the Foster Group considers the delivery of safe, eco-friendly products of reliable quality by fulfilling customers' expectations and social requirements as the basics of our quality assurance.
In addition, under the Basic Quality Policy, we globally promote comprehensive quality assurance activities to ensure that our products are of high quality.
Safety, reliability, and management of environmentally hazardous substances are taken into account on our products and components at all times during the processes (product/process design, purchase, and manufacturing) supported by our high-level technologies.
FOSTER TQM and Quality Management System (QMS)*
Our QMS is based on the development of quality assurance and management activities under its customer-focused philosophy since the Company's foundation.
In 1975, we formulated the Total Quality Control (TQC) Regulations, which was upgraded to Total Quality Management (TQM) Regulations in May 2006.
Since 1998, all the Group companies have successfully acquired the QS9000 certification (including ISO9001: 1994).
In 2004, all the Group companies successfully acquired the ISO/TS 16949 certification,
In 2017, we switched to ISO 9001: 2015 and IATF 16949: 2016 standards company-wide and have continued to comply with them.
※QMS:Quality Management System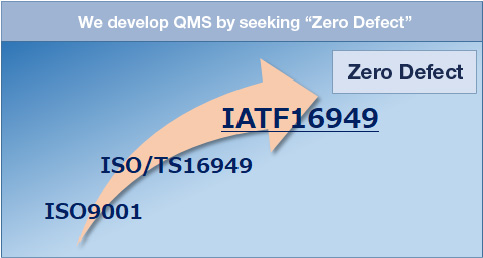 Global Quality Assurance Structure
The Group has developed global quality assurance systems, connecting the headquarters, overseas factories and sales companies to improve the quality of our products to be supplied worldwide.
Enhancing Quality Awareness
Our headquarters has made November the "Quality Month" and holds a variety of events to improve quality awareness.
Main Events Held Last Fiscal Year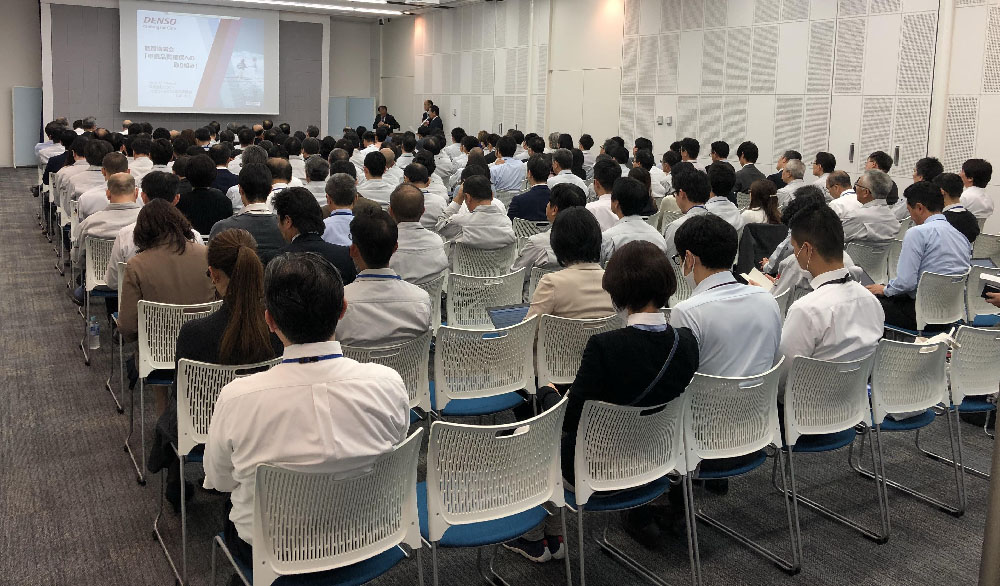 ■ Holding the quality lecture presentation
The quality lecture presentation was held by inviting outside lecturers.
Approximately 170 employees attended this event.
■ Quality Improvement Exhibition
We held improvement case exhibitions at headquarters and overseas sites to share detailed information on the improvements.

■ Seeking ideas for a quality slogan
We seek ideas for a quality slogan for each division every year. Compiled in a booklet, all of our employees carry at all times.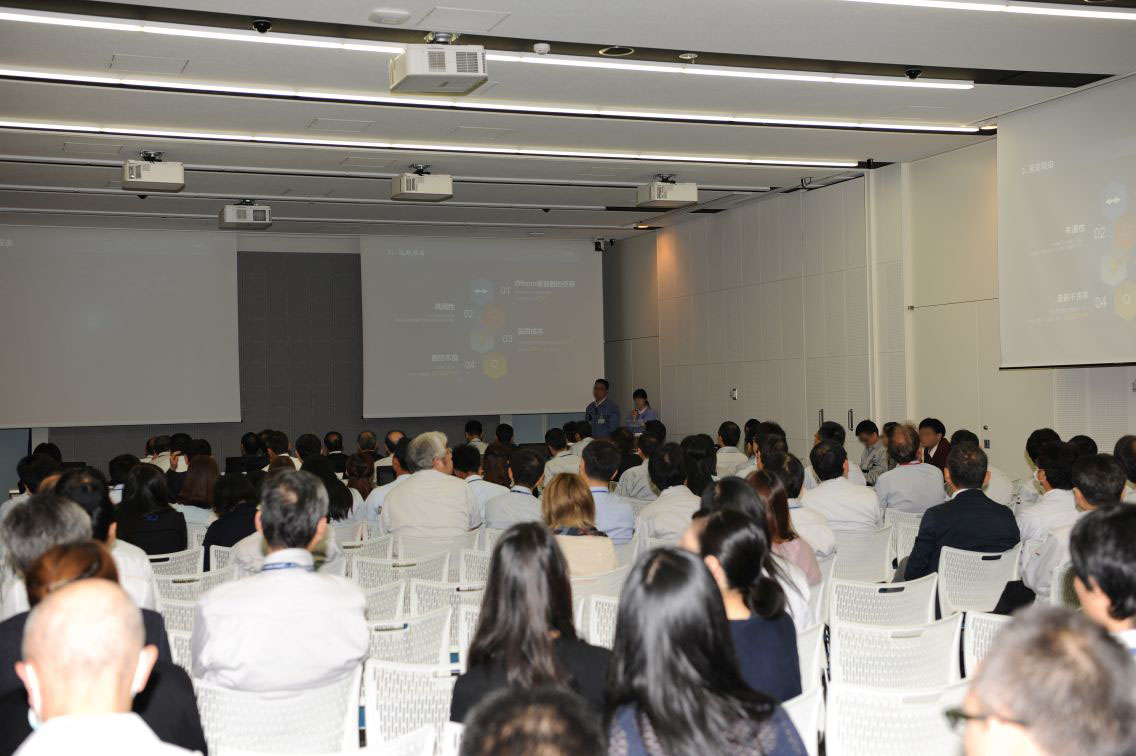 ■ Global QC Circle Convention
Through the QC Circle activities, opinions from overseas production sites are valued and used to improve product quality.
Each year, more than 100 QC circle teams are conducting activities at overseas factories. Among them, 7 teams that won the QC Circle Convention at each factory gave presentations of their results at headquarters.