Top Commitment
Top Commitment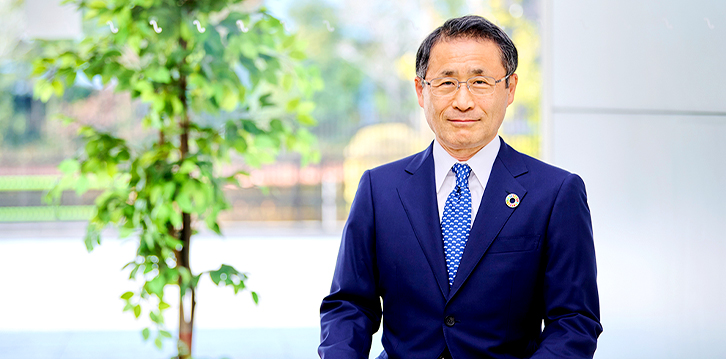 Corporate Social Responsibility and Management
As we fulfill our corporate social responsibilities, Foster Group sincerely wishes to be a corporate citizen that is relied on and loved by our various stakeholders. It seeks to do this by maintaining the consistent spirit of doing business for society and people based on our corporate creed of "sincerity."
Omi Shonin (merchants from modern Shiga Prefecture), used to say that in business you should have "three goods"—good for the seller, good for the buyer and good for the society. I believe that many corporate entities that have been operating for more than 100 years secure these "three goods" by making reasonable profits and returning them for the good of society. Securing these "three goods," we also aim to be a centennial company that has a shining presence in the coming new society.
Society is currently experiencing major changes. With the industrial revolution being brought about by the IoT (Internet of Things), advent of the automated driving era, development and expanded use of AI and many other advances, we feel that the innovations that fundamentally change our way of life are progressing at a pace that far exceeds anything that we anticipated. New players are also appearing one after another to respond to those changes and competition is becoming increasingly intense.
To realize our corporate vision "to make contributions for future society through acoustics," we must continue to uphold the basic philosophy of "sincerity" that Foster has adhered to since its founding, while making major changes as we move forward. The key players who have a central role in achieving this are people, the tens of thousands of Foster Group employees around the world.
We will continue to actively promote human resource employment worldwide and diversity to cultivate truly global and sophisticated human resources. In addition, by further promoting "work-style reform," we would like to create an environment where more employees can work flexibly and freely to achieve the goal of "Be Happy 80%*."
* "Be Happy 80%": The ideal environment that we would like to achieve company-wide, which was presented by a team of young employees during internal leadership training. It refers to a working environment and corporate body where 80% of our employees can feel 80% happiness. I agree with that opinion.
Recognized for such efforts, we were selected as one of the "New Diversity Management Selection 100 (2017)" by the Ministry of Economy, Trade and Industry. We will continue those efforts in the future.
To unite people with digital signals through analog technologies of "acoustics" and become a company that is loved by all, Foster will continue to be an acoustics professional that pursues better sound quality to delight music-lovers worldwide.
In addition, the Foster Group will continue to maintain compliance and promote environmental activities as part of our CSR activities, to ensure thorough quality control and risk management, and conduct our business operations based on the values of discipline, responsibility and social contribution.
Foster Group has signed the "United Nations Global Compact" to represent our commitment to CSR activities.
We have also defined "Foster Rhythm" and introduced it across the Group companies to clearly describe "Principles & Values," instill the concept of our corporate philosophy in our employees, and strengthen the foundation of the corporation for future generations.
We will celebrate our 70th business anniversary next year. We will continue to strive to become an enterprise that is loved by society and that offers satisfaction for its various stakeholders.