Environment
Environment
Environmental Philosophy and Policy
Environmental Philosophy
In pursuit of eco-friendly technologies and manufacturing, the Foster Group, respecting nature, contributes to the realization of an affluent society and an environment where people around the world can fully demonstrate their humanity.
Medium-Term Environmental Policy
We conserve the global environment by promoting resource and energy saving in product development and design.

To set targets with customers and promote reduction of product's electricity consumption and weight saving.

We prevent contamination and reduce CO2 emissions in all the phases of business activities including manufacturing and disposal.

Each site to set waste reduction target and execute as action plan.
Reduction target (Annual average): to reduce 1% of CO2 emissions per sales unit (Target for 2020: 7.73% or more reduction from 2012)
To create energy saving plan at manufacturing process in order to reduce CO2 emission.
To grasp clean energy usage rate at each site and promote clean energy utilization.

We strive for the continual improvement of environmental performance in compliance with environmental laws and regulations and other requirements.

To reduce utilization of Volatile Organic Compounds by setting the reduction target in order to satisfy increasing customer requirement.

We raise the awareness of environmental protection and biodiversity and thereby develop human resources who contribute to society.

To implement biodiversity protection education to employees and build a base for biodiversity protection activity rooted in the area of each site.
Understanding water risks on a world-wide level, each site to grasp and control their water consumption and drainage.

We maintain and improve environmental management system and promote external communication.

To maintain and improve environmental management system and environmental performance by achieving smooth shift to ISO14001:2015 at each site.
Environmental Management Structure
We have established an environment management system based on ISO 14001 at the headquarters and overseas manufacturing sites and embody the Foster Group's environment philosophies and mid-term environmental policies.
At headquarters, we monitor the activities conducted at each site and check their results.
Environment Management System based on ISO14001
The headquarters defined the Head Office of Foster Electric (1-1-109, Tsutsujigaoka, Akishima City, Tokyo, Japan) and the Miyazawa office of the Fostex Company (512, Miyazawa-cho Akishima City, Tokyo, Japan), as registered organizations and addresses, and switched to ISO 14001: 2015.
Each overseas manufacturing site also switched to ISO 14001: 2015.
In addition, we present the ISO14001 certification upon the request of stakeholders.
Environmental Activities
Environmentally Friendly Headquarters Building
Our headquarters, which employed technologies to reduce its environmental burden, implemented lighting control using daytime sunlight, which effectively brings daytime sunlight into the office, and human body sensor light control to achieve optical controls for automatically turning off lights. In addition, by adopting air conditioning control technologies, including air conditioning using outside air, which brings in natural air to maximize the efficiency of air conditioning, an ice thermal storage air conditioning system,* which enables a peak cut in the daytime use of electricity, and a double-skin facade, which improves heating efficiency, the efficiency has been maximized for electrical use. In addition, thorough temperature control through the Cool Biz and Warm Biz campaigns, support for the private-public initiative of Premium Fridays as part of the work-style reform, and the initiative to turn off all the lights in the building further helped to control electricity use. Based on the mid-term environmental plan, by procuring clean energy prior to the other sites in the Group, the headquarters has controlled greenhouse effect gas emissions and strongly promotes active participation in climate control measures.
* A system to use the air conditioner during the daytime that cold air is made from the ice produced during the nighttime.

Air conditioning using outside air (headquarters)
Management of Chemical Substances
The Group has set forth its autonomous management standard, in which applicable laws, regulations and customers' requests are reflected, for handling environmentally hazardous substances contained in its products to minimize their impact on the environment. We eliminate any controlled substances from our products via eco-friendly procurement and management of necessary parts and/or materials purchased.
Based on the aforementioned scheme, we have established an optimum management system for the efficient search and collection of information about chemical substances that are contained in parts and materials and precise communication of information necessary in the supply chain. We have taken all possible measures to ensure that we do not miss to cope with annually added chemical substances that need to be monitored in accordance with the EU's RoHS2.0 Directive and the REACH regulations implemented in 2013. In addition, to ensure communications of related information, we provide our suppliers with briefing meetings every year primarily at our overseas sites. We monitor 41 substances as controlled substances and banned heavy metals such as lead, cadmium, mercury and hexavalent chromium together with other highly harmful substances from use so that our products are completely free of these substances.
In compliance with the trend of legal regulations and/or customer requests, our products are manufactured without certain chemical substances, such as certain phthalate esters which are used as plasticizing agents (referred to as certain phthalate ester-free manufacture).
Zero Emissions
At headquarters we are engaged in the recycling of waste, etc., (waste that contains recyclable elements) through the sorting and separation of regular waste, plastics and industrial waste, together with comprehensive awareness raising activities. Already assembled products and parts are being recycled into raw materials through a professional recycling business operator, as part of our continuing activities aiming to achieve zero waste emissions from our business activities.

Recycled materials being carried out
Mini-clean Activities
As part of our CSR activities, we conduct mini-clean activities, clearing the footpaths and sidewalks around our headquarters, and develop an annual plan to be implemented monthly. We also actively participate in the Akishima Cleanup movement, and are working towards the beautification of our local area, in which all departments including the members of the Environment Committee can participate.
Environmental activities with the town of Iwaizumi
Aiming to become a company trusted by the local community, we are providing support for global environmental preservation activities through Akishima-shi Environment Consideration Enterprise Network. We are also taking part in the Arbor Day for Future and other activities run by Akishima City and the town of Iwaizumi (in Iwate Prefecture, closed the friendship city agreement with Akishima City) as part of our carbon offset initiatives. For reconstruction from the damage due to the typhoon in August 2016, we supplied environmentally friendly dishwashing detergent as a member of the Akishima-shi Environmental Consideration Enterprise Network.

Global environmental preservation activities with the town of Iwaizumi, Iwate Prefecture
Activities related to biodiversity
Based on environmental policies, and aiming to improve awareness of environmental preservation and biodiversity, we participate in biological fact-finding investigations associated with Akishima City's Basic Environmental Plan and environmental learning sessions, which introduces nature-watching in Akishima City, endangered species preservation activities, among other topics. This term, we also plan to participate in local volunteer activities. We will consider the value of biodiversity in the community and prepare environmental preservation initiatives through our activities.

Environmental learning session (1)

Environmental learning session (2)
Environmental Activities at Overseas Sites
Our manufacturing sites across the world are also implementing environmental education and training.

Practice against chemical leakage at the factory (China)

ISO 14001: 2015 Training (Vietnam)
Our China plant (PANYU) purifies wastewater from the manufacturing process of speaker diaphragms through a filter and recycles it as cooling water.
In addition, it reuses the wastewater from the lavatory for toilets.

Filter for wastewater installed on the roof (China)

Device that collects wastewater from the lavatory and feeds it with a pump (China)
GHG Protocol Scope 3
Environmental Education
The Foster Group is continuing its environmental management activities, based on the belief that such activities are vital to continue as a centennial company. At the headquarters, in preparation for the calculation of the GHG protocol*1 Scope 3, we attended a training on decarbonized society and reduction of supply chain emission*2 provided by the Ministry of the Environment during the Environment Month (June 2017).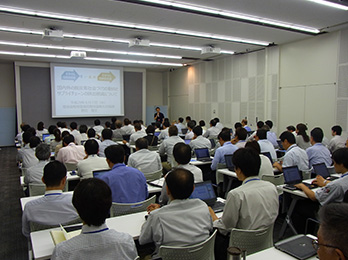 Training in the reduction of supply chain emissions (headquarters)
※1 GHG protocol (Greenhouse Gas Protocol) Standards for the calculation of greenhouse effect gas, which were developed mainly by the WBCSD (World Business Council for Sustainable Development) and WRI (World Resources Institute)
※2 A supply chain refers to flow processes from procurement to manufacturing, distribution, sale, and disposal of parts and materials.
The greenhouse effect gas generated from those processes is called the supply chain emissions, which consists of Scope 1, 2, and 3.
Scope1:Greenhouse effect gas emitted directly from the reporting company itself (fuel combustion and industrial process)
Scope2:Greenhouse effect gas emitted indirectly from the use of electricity, heat, and steam, which are supplied from other companies
Scope3:Greenhouse effect gas emitted indirectly, which does not fall under Scopes 1 and 2 (emission from other companies associated with the activities of the reporting company)
Emission of Greenhouse Effect Gas (Scope 1, 2, and 3)
We have set the "CO2 reduction target for 2020" based on the Medium-Term Environmental Policy and are conducting reduction activities on a group-wide basis. In addition to the emissions from our offices and plants (Scope 1 and 2), we have been calculating the emissions in the overall supply chain (Scope 3) since last year. We took part in "Supply Chain Emission Calculation Support," which was a project by the Ministry of the Environment in 2017, and calculated the emissions in Scope 3 from the Group in Japan. Because we do not have our own plants in Japan, Categories 11 and 4 account for a high percentage of the calculated emissions, which is 75% of overall emissions. In the future, we will expand the calculation range globally and work on reducing the greenhouse effect gas in the entire supply chain.
● Calculation method: Calculated based on the "General Guidelines on Supply Chain GHG Emission Accounting" (Ver. 2.2) released by the Ministry of Environment and Ministry of Economy, Trade and Industry.
※3 The calculation results can be viewed on the Ministry of Environment's website "Green Value Chain Platform":
https://www.env.go.jp/earth/ondanka/supply_chain/gvc/en/accounting_information.html#2017
Environmentally Friendly Products
The Foster Group designs and develops products by taking into account all aspects of product life-cycles; from the procurement of raw materials to the manufacturing, use, disposal and recycling of its products. We strive to develop and provide products with the least possible environmental burden, such as through the manufacture of eco-friendly products that minimize the use of harmful chemical substances, and the creation of lightweight products engineered to reduce CO2 emissions.
Lightweight speaker for in-vehicle use, eco-friendly speakers
We developed a lightweight speaker, optimum for next-generation eco-friendly vehicles such as electric vehicles (EVs). We reduced the weight of the speaker significantly to 140 grams for a speaker with a diameter of 17 centimeters while minimizing the suppression of its sound pressure level, a fundamental performance feature for speakers. Its advanced design has taken into account the need to reduce overall CO2 emissions from vehicles.

Frame is made of a specific polypropylene (PP) material and succeeded in reducing the frame weight while maintaining practical strength through profile optimization.

We have employed adhesives that do not contain harmful solvents and put them to practical use with the aim of reducing the volume of VOC remaining inside the passenger cabin of vehicles. We are taking steps to eliminate solvents in new models.

The diaphragms and the center caps, made out of recyclable paper with the high waterproofing of speakers required for in-vehicle use.

As one aspect of our environmental activities, we have developed and found practical application for speakers that reduce the use of solder. We will disseminate this activity to all Group companies and expand in mass production.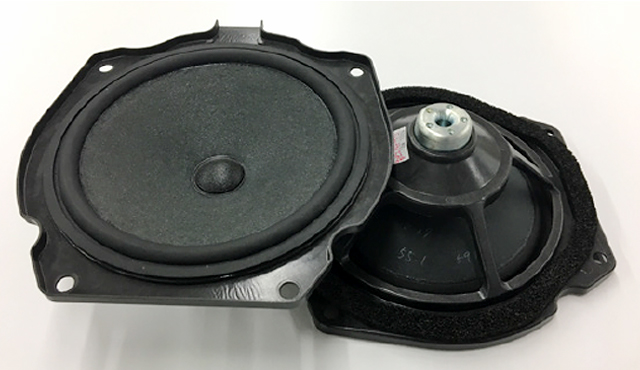 Lightweight speaker for in-vehicle use
Headphones and headsets
For headphones and headsets, we have been active in incorporating environmental considerations in our product and/or process design. For reducing the substances in our products that burdens the environment, we address the most upto-date information regarding country-specific legal requirements and the RoHS2 to promote proposals to our customers and dissemination to all the Group companies. We have reduced energy consumption in manufacturing and the volume of raw materials that would be disposed as wastes. We also have been keen on measures to minimize the volume of waste materials, reuse raw materials by introducing new equipment and developing products using natural materials as well as addressing the manufacturing of more eco-friendly products with less use of adhesives and developing a manufacturing method using less solder.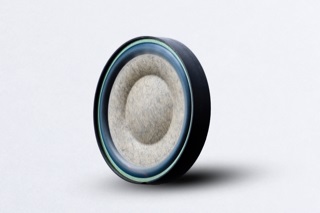 Environmentally friendly headphones and microspeaker
Active subwoofer PM-SUB8
Power-saving active subwoofer using a Class D digital amplifier This product is equipped with the auto-standby function that automatically reduces power consumption after input signals have remained at a certain level or lower for a certain period of time.
It also allows users to turn ON/OFF the auto-standby function.