United Nations Global Compact
United Nations Global Compact
The Foster Group signed and joined the "United Nations Global Compact (UNGC)," the world's largest corporate sustainability initiative promoted by the United Nations, on January 19th, 2017.
Ten Principles of the UNGC and Foster's Actions
As a company that operates globally, we support the 10 principles of the UNGC of "Human Rights," "Labour," "Environment" and "Anti-Corruption" and conduct activities for compliance, decent work, care for the environment, and CSR procurement, etc.
The Foster Group's commitments to human rights, labor, environment and anti-corruption are defined in the Foster Group Code of Conduct for Staffs. This covers the provisions of the RBA (Responsible Business Alliance, formerly EICC) Code of Conduct and Rev. 4, which was revised in April 2017, and is currently in effect.
The items that correspond to the 10 principles are:
Ten Principles of the UNGC
Foster Group Code of Conduct for Staff:
HUMAN RIGHTS
Principle 1
Businesses should support and respect the protection of internationally proclaimed human rights; and
Responsible Sourcing of Minerals (Section 10)
Respect for Human Rights and Anti-discrimination (Section 23)
Principle 2
make sure that they are not complicit in human rights abuses.
LABOUR
Principle 3
Businesses should uphold the freedom of association and the effective recognition of the right to collective bargaining;
Respect for Human Rights and Anti-discrimination (Section 23)
Compliance with Labor-related Laws (Section 27)
Principle 4
the elimination of all forms of forced and compulsory labour;
Principle 5
the effective abolition of child labour; and
Principle 6
the elimination of discrimination in respect of employment and occupation.
ENVIRONMENT
Principle 7
Businesses should support a precautionary approach to environmental challenges;
Preservation and Protection of the Environment (Section 17)
* Our commitment to the environment is defined in the Foster Group Environmental Policy.
Principle 8
undertake initiatives to promote greater environmental responsibility; and
Principle 9
encourage the development and diffusion of environmentally friendly technologies.
ANTI-CORRUPTION
Principle 10
Businesses should work against corruption in all its forms, including extortion and bribery.
Compliance with Laws and Norms (Section 2)
Prohibition on Bribes to Foreign Officials (Section 8)
Foster Group's activities regarding UNGC:

Foster Group Code of Conduct for Staff:

http://www.foster-electric.com/csr/governance/pdf/coc_for_staffs.pdf(PDF:94KB)

Foster Group Environmental Policy:
UNGC Communication on Progress (COP)
We submitted Sustainability Report 2017 as the Communication on Progress (COP) for fiscal 2017 to the UNGC to report the progress of our activities as a member company. We also plan to submit this report as the COP.

Foster Electric's COP page in the United Nations Global Compact:
Sustainable Development Goals (SDGs)
In line with the signature of UNGC, the Foster Group will continue to promote the Sustainable Development Goals (SDGs), which are proposed by the United Nations, and conduct other CSR activities through the UNGC framework.
What Are Sustainable Development Goals (SDGs)?
In 2015, "United Nations Sustainable Development Summit" was held at the United Nations Headquarters. With more than 150 leaders from member countries participating, "Transforming Our World: the 2030 Agenda for Sustainable Development" was adopted as its resolution. The Agenda made declarations and set goals as an action plan for people, the planet and prosperity. They are known as "Sustainable Development Goals (SDGs)," which consist of 17 goals and 169 targets.
Source: United Nations Information Centre website
United Nations Website: Sustainable Development Goals (SDGs)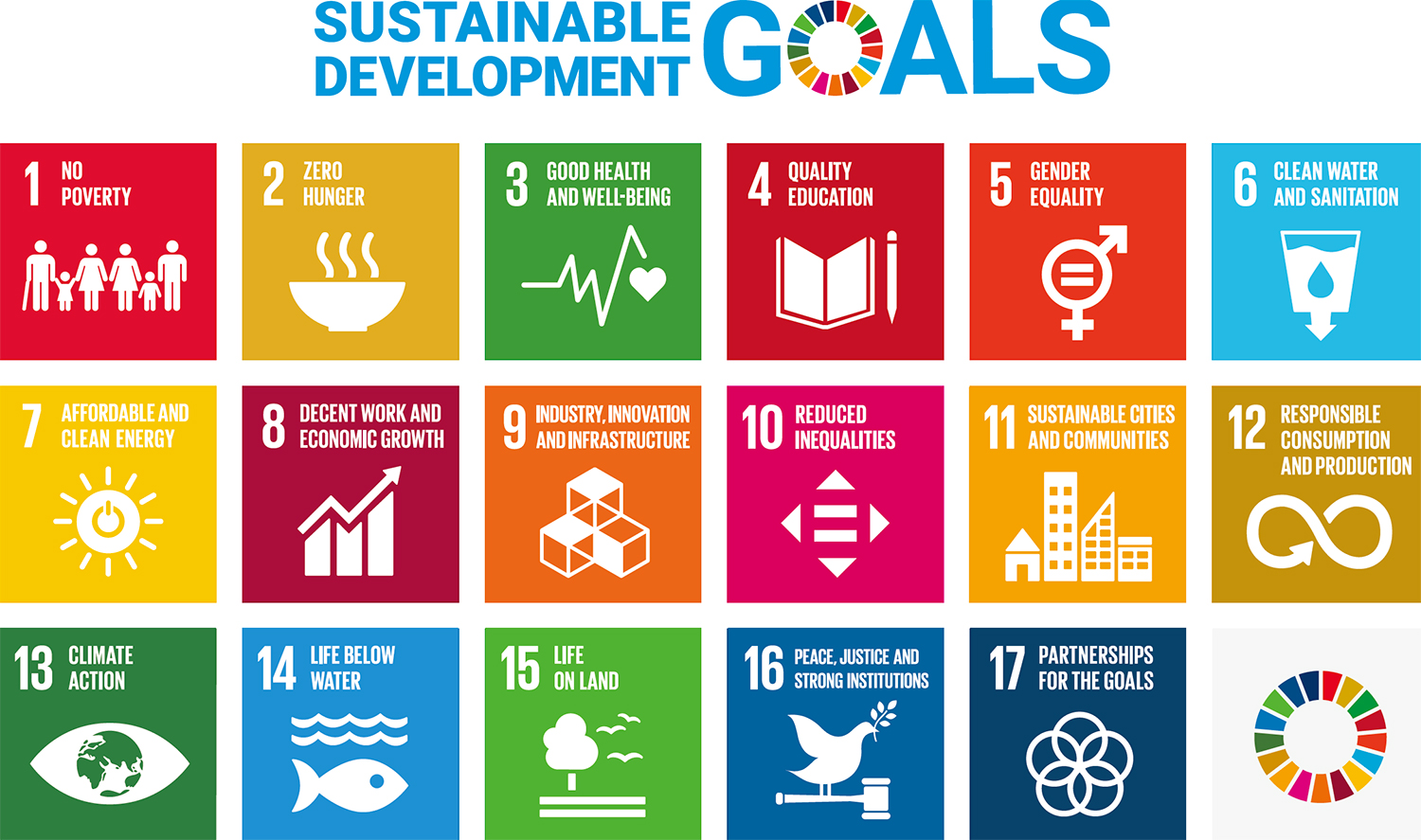 Foster's Actions
We are promoting the following 12 items among the 17 goals through our business activities and will continue to take action to help achieve a sustainable society.

Items in the SDGs
Examples of Foster's Activities
1. NO POVERTY
Donation activity for low-income households, assistance with food, and others
Participation in poverty reduction activities
3. GOOD HEALTH AND WELL-BEING
Implementation of the "Health Point System" and "New Smoking Cessation Program"
Participation in blood drives
4. QUALITY EDUCATION
Education on quality, environment, CSR, and so on
Acceptance of student interns
Donation of academic fees, books, and construction materials for classrooms
5. GENDER EQUALITY
Education to deepen the understanding of management for women who work while raising children
Provision of systematic training to female employees and support for their career development
Implementation of a "roundtable talk about women's careers"
7. AFFORDABLE AND CLEAN ENERGY
CO2 reduction
Management of environmentally hazardous substances
8. DECENT WORK AND ECONOMIC GROWTH
Work style reform project (flex-time system, work-at-home program, Premium Fridays, recommendation of twice-weekly no overtime days, and volunteer leave system)
New personnel system (multi-stream personnel system by course)
Technical master system
10. REDUCED INEQUALITIES
Establishment of the Diversity Management Section (promoting support for employees raising children and providing nursing care, women's active participation, LGBT activities, and global human resource employment)
12. RESPONSIBLE CONSUMPTION AND PRODUCTION
Management of chemical substances
Zero emissions
Reuse of wastewater at plants
13. CLIMATE ACTION
CO2 reduction
Promotion of clean energy use
15. LIFE ON LAND
Support for global environmental preservation activities
16. PEACE, JUSTICE AND STRONG INSTITUTIONS
Corporate governance structure
Compliance structure
CSR procurement
Basic policy on conflict minerals
17. PARTNERSHIPS FOR THE GOALS
CSR assessments and audits
Responsible procurement
Holding the internal CSR communication conference
Activities as a member of the Global Compact Network Japan (GCNJ)
We are participating in the "human-rights education subcommittee," "environmental management subcommittee," "WEPs subcommittee," "supply chain subcommittee," "DRR (Disaster Risk Reduction) subcommittee 2018," and "ESG subcommittee of the GCNJ, which are composed of the member companies of the UNGC (as of June 2018).
The subcommittees not only share the CSR-related latest trends and study cases of each company through lecture meetings by influential individuals but also are working to produce various kinds of outputs that support CSR activities of various companies based on the member companies' experiences in a wide range of industries.
Involvement in output
Supply chain subcommittee
CSR procurement self-assessment tool set (Japanese)
In addition, the knowledge obtained through the subcommittees is reflected in our CSR activities.